Zombies are everywhere these days (in media, I mean – it's not a comment on acquiescent society or anything): There are movies, TV shows, graphic novels, and video games about zombies, many of which have become really popular in the last few years. You've probably even heard about or read those books which are just classic Jane Austen novels edited to include zombie attacks in them.
Well, I, for one, am getting in on this profitable zombie action while I still can. So what I have done here is taken an obligatory bio page and zombified it. Without further ado, I present to you my...

In THIRD PERSON!
Part One: The Borough
David was born in the Bronx borough of New York City, but grew up in the borough of Tenafly, New Jersey. He also spent a lot of time in the Manhattan borough of New York. Saying "borough" a lot sure makes it sound weird, doesn't it? Anyway, David attended school in Tenafly, which is where he got a lot of his playground tattoos, which are like prison tattoos except they usually result in more real teardrops than ink ones.
In high school, David started drawing comics about himself and his friends and how awesome they all were (well, not really). These comics eventually culminated in his senior film The Rise of the Roman Empire. David also invented Cliff Hanger.
It was there, in the borough, that David experienced his first zombie outbreak. But such outbreaks are just a part of growing up, and can be controlled with special creams, I'm told.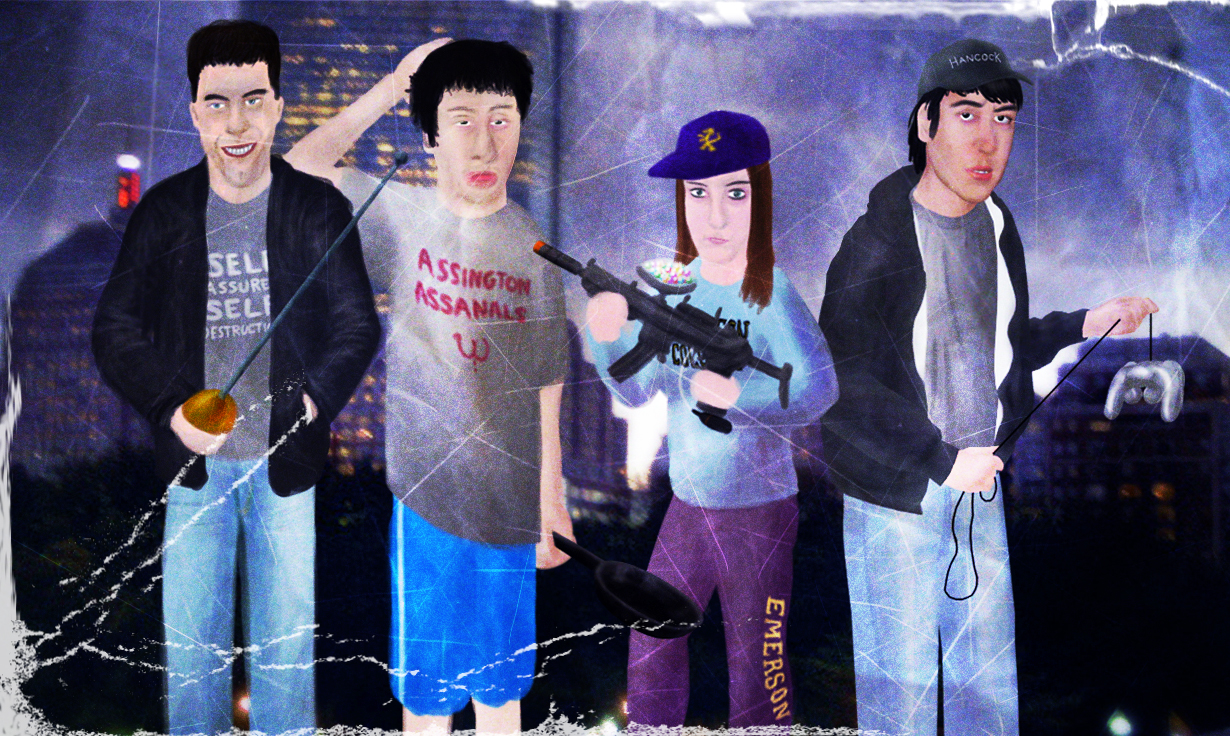 Part Two: The Bay
David killed a lot of zombies over the course of the four hour-long getaway drive to Boston, where he attended Emerson College for the next four years following his graduation from Zombie Outbreak High School.
The Bay was lovely, if not cold and lame and zombie-infested. Here, David began his work on Flash games and animations. He also made a seven-minute computer animation called "Surf Vs. Turf," and did several silly drawings and wrote several silly articles for Hyena, Emerson's humor publication.
Also, there were zombies.
Part Three: The Valley
When the group got news that there was a laboratory in California's San Fernando Valley with a cure for Zombitis, they headed West almost immediately. Many did not survive the trip, but David did, and when it turned out that the "cure" was fake, he stayed in Los Angeles and continued to destroy the zombies that haunted it.
It was during this time that David produced his first "mostly not lame" animation, titled "Agent Cuteling in Ughsville." He also did some more drawings and began production on a sequel to "The Rise of the Roman Empire," called "The Fall of the Roman Empire."
Also, there were zombies. Again.
All Content Copyright © 2001 - 2012 David Koenig.
Unauthorized use of this material is not legal in the state of California unless you can convince a doctor you have glaucoma, insomnia or "stress."