Let's see if there's a nice way I can describe Lancaster.
Lancaster is like the kind of place you'd take your kids to if you were punishing them.
Okay, maybe that isn't the most delicate way to express my feelings. I'll try again.
If aliens were trying to decide whether or not to demolish the Earth, and they landed in Lancaster to conduct their research, we'd be doomed.
I'll just jump right into it: I visited Lancaster for the first time today, as I had to pass through while I was hunting for a rare breed of butterfly up North. I realized immediately the two words you need to describe the place: Brown, and orange-brown.
It's as if the designer of Lancaster had a huge pallet, but forgot to buy new paints, so he checked the old bottles he had in his trunk that he never used, and they turned out to be different shades of orange and brown.
The scenery's brown, the buildings are orange and brown, and the people... well, they are all different ethnicities, but I can safely say that the ones I saw appeared to have had the life sucked out of them.
I have nothing against the color brown: I very much enjoy Primus's Brown Album, the Cleveland Browns never pose a threat to my New York Jets these days, and I have no problem rooting for the brown protagonist in the sentence "the quick brown fox jumps over the lazy dog." Still, an entire city draped in the dreary, dirty earth tones of Lancaster is pretty lame.
What's strange about Lancaster is that, thanks to its expansive neighboring deserts (which is already a con in my book) that people can cook in, it is pretty much the #1 meth capital in the world. That's not the strange part – the strange part is that it houses a military base, so you pretty much have two very different kinds of people living in town.
Lancaster also has the audacity to name its streets after numbers and letters, like it's some major city west of Long Island and East of Jersey City. Instead, Lancaster is East of Saddleback Butte State Park, and West of Antelope Valley Poppy Reserve. In other words, it is sandwiched between a butt and poopy. Maybe that's why it's all brown? Either way, it doesn't even have a strict grid system, as you can see from the following Google Maps image: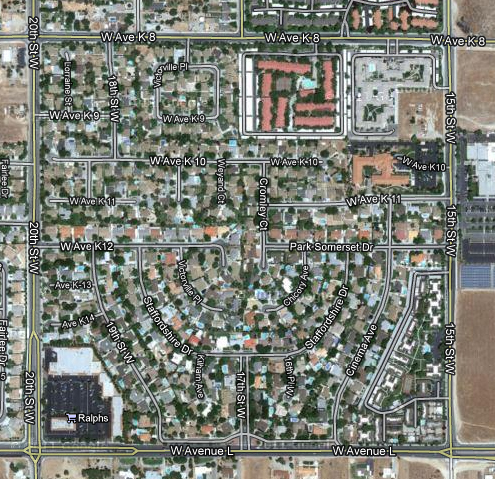 So, no, I don't think they have any right to number and letter their streets. It's a mess!
I'm sorry to say it, but Lancaster receives my lowest rating so far: Two Stars. I guess that's also my highest rating, since this isn't a review site and I've never rated a location here before. Still, hang your head in shame, Lancaster!